A Brief History of  The Soldiers' Home of Vermont
The original estate that houses the Vermont Veterans' Home was constructed in 1860. In 1884, recognizing the need to care for veterans disabled in the Civil War, the State General Assembly appointed Trustees of a Soldiers' Home and authorized a $10,000 appropriation as initial funding. The first of twenty-five residents were admitted on May 18, 1887. On April 14, 1971, the Soldiers' Home was renamed the Vermont Veterans' Home.
Construction of a cemetery began in 1884 with one acre devoted to the burial of Civil War veterans. Expanded to 17 acres, and containing about 300 gravesites, burial is now restricted to residents of the VVH.
Significant capital construction began in the 1960's including renovation of the administration building, residential areas, and dining room, and construction of new nursing care units, a chapel, social hall, gazebo, and bandstand. 
In the past several years, other significant additions and renovations occurred, including a geothermal system for heating and cooling, renovation of four residential units and development of a memorial area which includes monuments dedicated to Vermont Medal of Honor winners, Gold Star Mothers, and Vermont Veterans. Lighting systems, electronic controls, and information systems have been updated.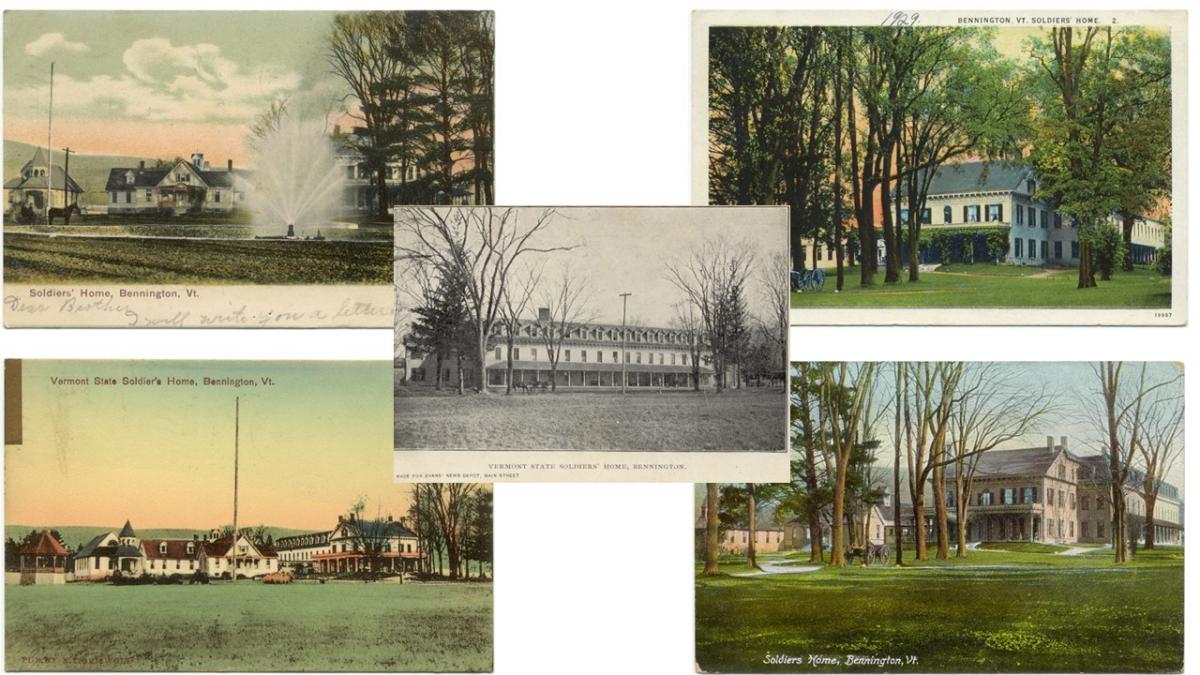 For a complete and updated history please email Robyn Boland or call 802-447-6523.
Commandants and Administrators
Col. Robert J. Coffey - May 1, 1887 - July 16, 1901
Col. Thomas Hannon - July 17, 1901 - February 1, 1917
Col. George P. Martin - February 28, 1917 - July 21, 1927
Lt. Col. Arthur S. Martin - July 22, 1927 - October 10, 1929
Col. John W. Tinker - October 11, 1929 - July 9, 1937
Brig. Gen. Reginald W. Buzzell - July 10, 1937 - July 9, 1941
Lt. Col. Edward A. Tobin - July 10, 1941 - January 18, 1946
Brig. Gen. Reginald W. Buzzell - January 19, 1946 - October 4, 1950
Brig. Gen. Alexander J. Smith - October 5, 1950 - May 27, 1951
Col. Lyndon H. Arnold - May 28, 1951 - December 14, 1958
Brig. Gen. Edward H. Giles - December 15, 1958 - January 24, 1977
CWO John E. Ahearn - January 25, 1977 - February 18, 1986
Contracted to Marlin Management

for interim period

 - April 4, 1986 - September 8, 1986
Lt. Phillip M. Peterson - September 8, 1986 - May 4, 1990
Col. Elmer C. Rieckhoff - October 9, 1990 - July 11, 1997
Col. Louis J. DeFelice - July 11, 1997 - March 8, 1999
Contracted to Subacute of America - March 8, 1999 - August 1, 1999
Earle R. Hollings, II - August 1, 1999 – February 1, 2005
Contracted for interim period - February 2, 2005 – June 26, 2005
Colleen Lurie Rundell, M.S., LNHA - June 27, 2005 - September 17, 2010
Contracted for interim period - September 18, 2010 - January 2, 2011
Melissa A. Jackson, CEO, MBA, LNHA, FACHCA - January 3, 2011